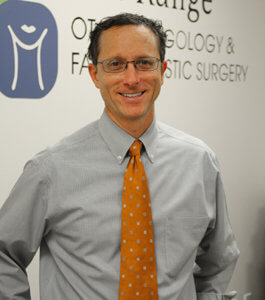 Doctor
Front Range Otolaryngology
Areas of Expertise

Otolaryngology
Head & Neck Surgery
Facial Plastic & Reconstrutive Surgery

Office
1325 Dry Creek Drive, Unit 103, Longmont, CO 80503
Dr. Kevin Cavanaugh, M.D.
ENT, Facial Plastic & Reconstructive Surgeon
After graduating from University of Notre Dame in 1991, I continued my education at Loyola-Chicago Stritch School of Medicine. I completed a five year residency in Otolaryngology-Head and Neck Surgery at Loyola-Chicago in 2000. From 2000-2001 I completed a one year American Academy of Facial Plastic and Reconstructive Surgery fellowship through the University of Texas-Houston.
After completeing my professional education, I wanted to come back to Colorado and open my own practice. Since 2001, I have enjoyed working with patients of all ages with all kinds of ENT issues. What I enjoy most is the ability to practice medicine the way I would like to be treated as a patient. Furthermore, I try to manage patients medically before offering surgery. I have seen several patients who were told elsewhere that they needed surgery, and I was able to manage them medically.
A Few Words From
Dr. Cavanaugh
I had an excellent experience with Dr. Cavanaugh
I saw Dr cavanaugh for a second opinion regarding sinus infections. The previous Dr was quick to offer surgery as my only option. First visit with Cavanaugh and I knew I had made the right choice, he was very, very thorough in asking questions and checking me over. I now have the issues under control with no surgeries. I will go back to see him if I have any other issues. I highly recommend and can't say enough good things.
I have my life back!
I saw Dr. Cavanaugh a little over a year ago for the first time. I had been suffering from repeated sinusitis for a number of years, going from doctor to doctor seeking help. Most of the time they just prescribed antibiotics. One told me that I would probably eventually need surgery. I asked one ENT PA if being sick all fall and winter every year was what I was going to have to live with for the rest of my life and she said "yes!". Eventually a friend suggested that I go to National Jewish. They didn't find the cause either. Thankfully, I went to a new primary care physician who referred me to Dr. Cavanaugh. He was able to diagnose my problem and I am thrilled to say that I have my life back! I have not had sinusitis in over a year! I am deeply grateful to Dr. Cavanaugh. He is extremely thorough, compassionate and an outstanding diagnostician. I highly recommend Dr. Cavanaugh.
I can breath thru my nose better than I thought possible
I went to Dr. Cavanaugh for an unusual growth in my nostril. He diagnosed the issue and let me know the recommended treatment. When he learned I had a high deductible health plan he made recommendations to help minimize the cost of the treatment which would be out-of-pocket costs for me. The procedure performed in his office went well and my recovery has exceeded my expectations. Thank you Dr. Cavanaugh for the successful procedure after which I can breath thru my nose better than I could remember was possible!
He is a fantastic surgeon
Dr. Cavanaugh has been so wonderful to me and is an amazing surgeon. Recently Dr Cavanaugh did my Tonsillectomy on and he made the process so much smoother then I thought it would be. He is a fantastic surgeon and is very thorough in his approach and making sure you understand the process completely, as well as making sure to fully answer any questions during the time you are with him. His patience really makes him shine and I will be sure to come back to him with any further needs.
We couldn't be more pleased
Dr. Cavanaugh performed my 9 year old's tonsillectomy and we couldn't be more pleased. Dr C took great care to clearly communicate what was going to happen in the surgery and what to expect recovery wise. He called to check in after the surgery and in our follow-up appointment he reinforced once again what to expect in the last week of healing. No surgery is a good time, but we couldn't be happier with Dr. Cavanaugh.
I highly trust and recommend
Dr. Cavanaugh's surgical skills
I was recently treated by Dr. Cavanaugh for a Lipoma on my neck. Surgery consisted of a 2 in. incision on the left side of my neck, behind and under my ear. It went well and post-operative pain was minimal.
I followed Dr C's instruction for wound and scar care and I am very pleased with the results. At a wedding 2 weeks after surgery, no one noticed my scar unless I pointed it out.I highly trust and recommend Dr. Cavanaugh's surgical skills.
Dr. Cavanaugh's treatment has eliminated my symptoms
Dr. Cavanaugh has successfully treated my extreme hay fever/allergy issues with GREAT success. I've done immunotherapy (by oral drops) for just over a year. Dr. Cavanaugh's treatment has eliminated my symptoms. I am very pleased. Previous to his treatment, my allergy issues were a year-round problem, but I now live without any symptoms. I urge anyone who suffers from allergy issues to consult Dr. Cavanaugh. You'll be pleased. Dr. Cavanaugh and his staff are all very professional and very pleasant folks as well. I feel comfortable as soon as I enter the office.
Professional and friendly
I'd like to take a minute to thank Dr. Cavanagh and his staff. I came to Dr. Cavanagh with some nasal polyps, heavy snoring and a potentially serious sleep apnea situation, I was at my wits end. Dr. Cavanagh was able to quickly determine a course of action, he was able to perform perform surgery that not only made breathing easy, significantly impacted my snoring and completely eliminated the potential risk of sleep apnea for me. This made a major difference in my quality of life. Dr. Cavanagh's staff at Front Range Otolaryngology and Facial Plastic Surgery were totally professional and friendly. They knew me by name and made me feel at home. I highly recommend Dr. Cavanaugh and his team!