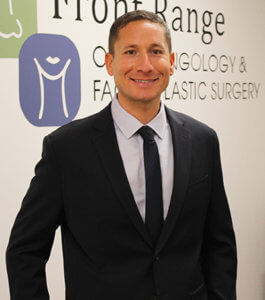 Doctor
Front Range Otolaryngology
Areas of Expertise

Audiology
Hearing Loss
Hearing Aids
Tinnitus
Vestibular Testing

Office
1325 Dry Creek Drive, Unit 103, Longmont, CO 80503
Dr. Sean Barak, AU.D.
Doctor of Audiology
Dr. Sean Barak is a board-certified audiologist and fellow of the American Academy of Audiology. He received his Doctor of Audiology degree from Nova Southeastern University, and his Bachelors from the University of Michigan.
After completing his professional education, Dr. Barak chose to hone his skills by learning from top experts in the field. He spent two years at the Michigan Ear Institute, working along-side of some of the most respected authorities in the fields of audiology and otology to learn their secrets and perfect his craft. This self-motivated training enabled him to master state-of-the-art diagnostic procedures, cutting-edge hearing aid technology, and various treatment modalities for hearing loss, tinnitus, and balance-related disorders.
Dr. Barak has devoted his career to helping people preserve and enhance the gift of hearing and human equilibrium.
A Few Words From
Dr. Barak
I had an excellent experience with Dr. Sean Barak
I had an excellent experience with Dr. Sean Barak and also Dr. Cavanaugh. Dr. Barak fiited me with hearing aids and provided excellent explanations, directions and follow-up. I have experienced severe nose bleeds and Dr. Cavanaugjh was very thorough and gentle with the treatment. I highly recommend this practice for their professionalism and skill and timely response.
We couldn't be more pleased
I am an elderly patient and needed a new set of hearing aids as I had lost my last set. I saw Dr. Barak the Audiologist who was the kindest person. I was able to learn all about my hearing aids in 1 visit. I have not had one problem with them and can hear the birds chirping again.
I also highly recommend Dr. Sean Barak!
I also highly recommend Dr. Sean Barak. Dr. Barak is an audiologist who conducts hearing tests and helps those who need hearing aids. He fitted me for a pair of custom ear plugs for sleeping. My ear canal is so narrow that off the shelf ear plugs do not stay in my ear and so do not work for me. Dr. Barak also makes custom ear plugs for musicians, designed especially for their needs.
Their staff is also excellent and the service they provide is first rate. I couldn't be happier with what they did for me.
Dramatic improvement in my symptoms
Finally after years of dealing with tinnitus and occasional dizziness not only do I have a diagnosis, but a treatment plan that has made a dramatic improvement in my symptoms. Early in the year I experienced in my left ear a very noticeable hearing loss, sensitivity to loud sounds and altered hearing- certain frequencies were harder to hear and higher pitched sounds sounded "tinny". Following Dr. Cavanaugh's treatment plan has helped me enormously. My hearing in my left ear is now very close to normal and I'm no longer plagued with the sensitivity to loud sounds and "tinny" sounds. I'm able to enjoy listening to music again, hear my children from other parts of the house.. enjoy a good show on TV.. so many things I took for granted before!